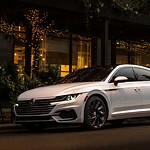 When you consider investing in a new car, what are the top factors that go into your decision? Design? Comfort? If so, our dealerships are proud to offer up the Volkswagen Arteon, and all-new fastback that gives you the best of both worlds.
Inside the Arteon, careful design creates an atmosphere that's both welcoming and relaxing. The heated front sport seats provide a soothing warmth when the temperatures drop. Don't worry about gloves; the heated steering wheel protects your palms. You can even opt for a seat that's ventilated and built with a massager for extra comfort.
Do you find that color has an effect on your mood? Opt for the ambient lighting feature. It enables you to change the color of the interior lighting to create the perfect conditions for any drive. To see the different options, come in to Lithia Motors and take an Arteon for a test drive.