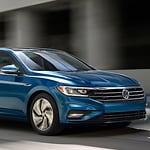 If you've started the process of looking for a new car and are interested in a compact sedan, consider the Volkswagen Jetta. The Volkswagen Jetta is one of the most popular vehicles in its class on the streets today. The Volkswagen Jetta garners high marks because of its design features.
The Volkswagen Jetta design features include driver personalization. This feature permits four individual drivers to set their own profiles, taking advantage of a variety of different customization options. In addition, the Volkswagen Jetta has App-Connect. App-Connect allows you to access apps on your smartphone via the Jetta touchscreen.
If you desire to learn more about the Volkswagen Jetta, if you want to see the Jetta up close, visit us at Lithia Motors. Our team can provide you all the information you desire about the Jetta. You can also take the Volkswagen Jetta on a test drive.