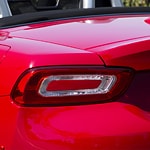 Here at Lithia Motors, we understand you want increased efficiency with your sports car in the coming years with your needs sure to be met with the Fiat 124 Spider Roadster.
You should not underestimate the power on offer from the Fiat 124 Spider Roadster from its 1.4-liter engine. When you want to make sure you are getting the most power and response from the Fiat 124 Spider Roadster that includes 184 pounds per foot of torque and around 160 horsepower that can move you quickly around town. The power and performance of the Fiat 124 Spider Roadster are continued from the engine to the exhaust that brings you a sound that backs up the power you feel each and every time you touch the gas.
Add to the power with the powerful stopping power that is available with the use of Brembo brakes that give you more security as you make your way on the roads of our city.