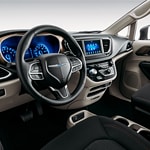 The Chrysler Voyager has long been a staple in the new minivan market. The newest Voyager does not disappoint with its innovative performance features. Find out why these features are designed for easy handling and safety on the road today.
The new Chrysler Voyager gets its power significantly from its 3.6-liter six-cylinder gas engine. This engine has a nine-speed shfitable automatic transmission. It also comes with a front-wheel drivetrain to shift power to the minivans front end. Designed as a family-friendly minivan, the new Chrysler Voyager also gets a respectable fuel economy. It gives you dozens of miles for every gallon of gas on both city roads and on the highway. You can take your new Voyager from Chrysler out on the longest journeys without sacrificing your traveling budget on expensive gas costs.
The new Voyager also comes equipped with dozens of safety features. They keep you safe in all driving environments.