Tips for Family Car Shopping

Getting a new family car is a major event and it involves every member of your family. 
Perhaps you have a new baby on the way and need more room. No matter what size your family is, and don't forget the dog, buying a new family car is a big decision. With that in mind, Lithia Motors wants to make it easier for you to get into your next vehicle with these tips for family car shopping.
Size up Your Family
Buying a family car is not just about how many people need to fit in the vehicle. It is also about your lifestyle. Is your family into visiting the great outdoors? Do you need extra room for camping gear? Are the kids into sports? Need space for hockey sticks or soccer balls? How you intend to use the new family car will tell you a lot about what that car will need to be. After all, the faithful station wagon of old has evolved into today's SUV. Will a two-row crossover work or are we talking about a bigger, three-row full size SUV? It's best to do some research on which vehicles might be right for you based on your family's size and needs.
Safety is Always First
When deciding on the specific vehicle make and model you're looking for, check out the safety ratings. Naturally, you want a family car that has the best safety ratings and you'll find them on the
National Highway Traffic Safety Administration
website. The NHTSA is responsible for keeping Americans safe on our roadways and conducts extensive tests on every make and model of car, truck, and SUV. Simply visit
NHTSA
 and enter the year, make, and model of the vehicle you are thinking about and you'll see its test scores for crash tests and overall safety.
Size Up Your Ride
Since you won't be bringing along such things as portable playpens to the dealership, measure how much space you think you'll need for cargo in your new family wagon before you go to the dealership. You'll find the cargo space limits listed in the specification section on the vehicle's website. Measure your stroller and any other stuff that you generally take with you for a family outing. 
It is important to know how many cubic feet of cargo space you will need at minimum, so you don't buy a vehicle that's too small.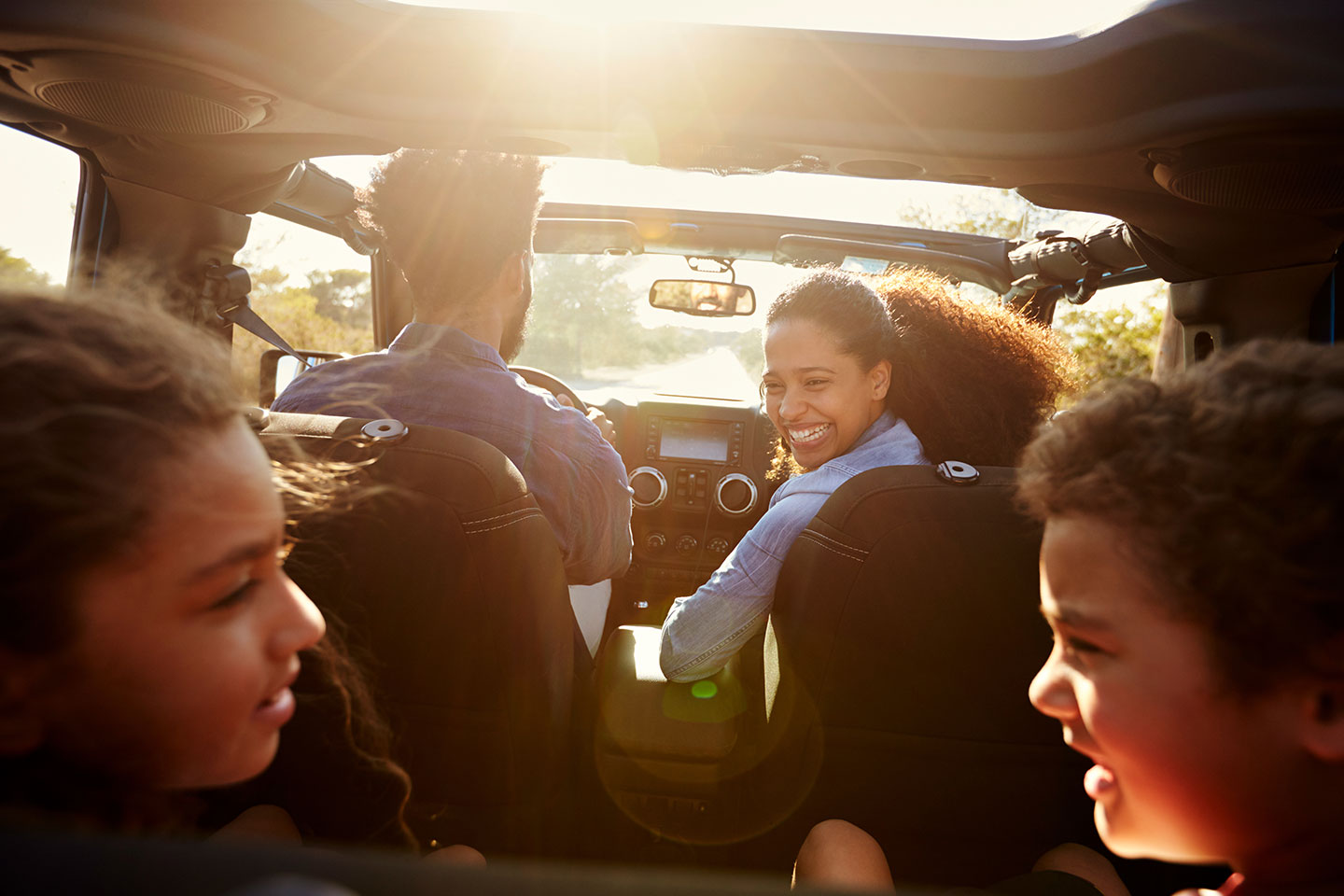 Road Trip
Armed with as much knowledge as the Internet provides on your vehicle of choice, some families like to take the entire brood down to the dealership for some real-world experience with the vehicle. 
Will you all fit? Hook up the child car seat and see how much room is left. 
Can you all get in and out of the vehicle easily? The automatic sliding doors on a minivan are starting to make more sense now, aren't they?
All About The Options
Now that you are looking at your prospective vehicle, where are the cupholders? Are there enough of them for your family? Where do you activate the childproof locks for the doors and windows? Do the rear seats fold down for extra cargo room? Do the seats move easily for access?
If you have a large family, are there separate controls in the back for the air conditioning? What about infotainment for long road trips? Are there screens in back to watch movies, TV shows, and play video games? Does the vehicle have USB ports in the back? Is there an automatic liftgate for when your hands are full of groceries? Can the dog get in and out of the vehicle easily? All things to consider.
At The Dealership
Okay, so you have narrowed down your choice of which family car to buy, you've done your research online and armed with a boatload of knowledge, you are ready for a test drive. If you are bringing the family along to meet your new vehicle, call the dealership first. Make sure they have the vehicle on the lot and that it is ready for a test drive. Online inventories can sometimes lag behind what is actually on the lot and you don't want to get there all eager only to find out the car is not available.
If you call ahead, the dealership can pull the vehicle around front and have it ready to meet your family. Keep in mind that you'll want to take your time getting to know the vehicle. If possible, arrange your visit for a weekday when there aren't as many customers at the dealership.
Let Lithia Help
No matter what your family car needs, Lithia Motors has your back. With over 75 years of experience in personal transportation, we'll get you into the right car for you, your family, and even the family dog.