The Subaru Ascent ticks all the boxes!
When it comes to purchasing a new family car, there is no doubt that the highest priority is safety. You want a vehicle that is well-engineered with car safety features in mind. You look for a car that includes well-engineered airbags and seat belts/head restraints. You want the car to take high marks in crash worthiness tests which include handling, strong braking, performance, and stability control to allow a car to transport its passengers safely. When asked what safety features consumers want in a family vehicle, the following technology is high on the list:
Electronic Stability Control is a computerized technology that improves a vehicle's stability by sensing its loss of traction. It momentarily brakes one or more wheels depending on the system in order to avoid skids or slides.
Rearview Cameras make it safer to back up a family sedan, minivan, or SUV that has poor rearward visibility. (All passenger vehicles sold in the U.S. are now required to have backup cameras.)
Side-Curtain Airbags protect/cushion usually the front and rear seats during a side impact or rollover, though they can also protect third-row passengers in some larger vehicles during a side impact or rollover.
Lane-Departure Warning (LDW) alerts the driver if they drift their vehicle out of its lane. LDW was created to warn a driver to take corrective action immediately which can prevent collisions and run-off-road accidents. 
ABS Anti Lock Brakes ABS prevents brakes from locking up and tires from skidding when braking forcefully; it allows the driver to retain steering control while braking.
In order to pick the
Lithia.com
the safest Family Car for 2021, we went to the highest sources available, combining the crash test scores from the National Highway Traffic Safety Administration (NHTSA) and the test scores from the Insurance Institute for Highway Safety (IIHS). We took into account how many safety features are available on the top-rated cars and ranked them accordingly. In the end, we picked a vehicle that excels in all safety criteria. In fact, the NHTSA gave it a five out of five in crash tests. The IIHS had a similar review and gave this car its
Top Safety Pick+ award
in 2020, the highest safety award they hand out.
For 2021, our pick for the safest family car is a steadfast, reliable, family-friendly Mid-size SUV. It makes perfect sense. After all, the number one thing that families look for in a new car is safety, and in recent years, the most popular model of vehicle for families has been the Mid-size SUV. Subaru has led the way in comfort, safety, and versatility, offering outstanding All-Wheel-Drive vehicles that are great in ice, snow, and on bumpy roads. For years, families have purchased and enjoyed the Subaru Outback. It is the perfect AWD family wagon. But many of today's families want more room and more features than the noble Outback provides. Enter the Subaru Ascent. This mid-sized, 3-row SUV has it all, and it's Lithia.com's pick for Safest Family Car of 2021.
This 3-row, 8-passenger Crossover is one of the few Mid-size SUVs to come standard with All-Wheel-Drive. It's powered by an extremely reliable 260 horsepower, Turbo-charged 4-cylinder, and CVT automatic transmission. MSRP starts at $32,295 with the top-of-the-line Touring model beginning at $46K. Besides being the safest car in its class, it is loaded with convenience features. Subaru boasts that the Ascent has an astounding 19 cup holders. That is a lot of Slushies!
When it comes to safety, the Ascent comes standard with Subaru's EyeSight Driver Assist Technology. EyeSight monitors traffic movement, optimizes cruise control, and warns you if you sway outside your lane. The system has been found to reduce the rate of rear-end crashes with injuries by up to 85%. It includes Blind Spot Monitoring, Forward collision warning, Automatic Emergency Braking, and Rear Seat Monitor (to remind you not to leave a child in a hot car). Lead Vehicle Moving Monitor alerts you when the guy in front of you has moved his vehicle. Four different cruise control settings even allow you to control the rate of acceleration while in adaptive cruise control mode. This is one smart SUV. Creature comforts include a comfortable interior, sunshades, and heated seats in the second row as well as up front. The second row also moves back and forth easily allowing you to get into the third row without hurting yourself. Those second-row seats also offer easy split fold down to add to the rear cargo area.
The Ascent's Infotainment System is simple and intuitive to navigate and includes Apple CarPlay and Android Auto allowing drivers to access important cell phone functions without picking them up, reducing distractions. There's even a "Birthday Feature" that lets you enter your family's birthdays and then the car wishes you and yours a Happy Birthday on those special days. Talk about a car that wants to be a member of the family!
Driving the Ascent is a pleasure with exceptional visibility, unusually spry steering for a Mid-Size SUV, and the acceleration is remarkable thanks to the Turbo. It feels more like driving a car than an SUV, and that's good. The Ascent is not a cool car or a sporty car, but it is a reliable and very safe car that is ready for any adventures your family can dream up.
Summing it up: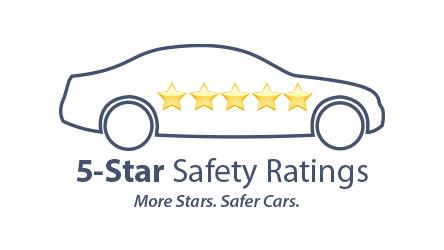 The Ascent got the highest safety ratings by the IIHS for crash worthiness including front, side, roof strength, head restraints, and seats. It also rated highest in crash avoidance warning systems, child seat anchors, and such safety features as optional blind-spot detection, standard lane departure warning, and standard lane departure prevention. The NHTSA gave the Ascent its highest 5-Star Safety Ratings for Overall Rating,FrontalCrash, Side Crash, Rollover, and Recommended Safety Technology.

Subaru has a reputation for safety, and the Ascent is no exception. It comes standard with AWD, which costs extra in most mid-size SUVs.
---