How Much Is My Car Worth?

Your car might be worth more than you think.
If you are thinking about selling your car, the first thing you will probably want to know is how much your car is worth. What is the trade in value of your vehicle? Well, you might be surprised that your car could be worth more than you think.
Last year, a shortage of the computer chips used in the high tech goodies found in all modern cars to act as the brains behind such modern marvels as emissions control, safety, and driver assist features, caused fewer new cars to arrive at dealerships. There have also been shortages of steel and even the foam inside car seats. Thus, production slowed and fewer new vehicles made their way to dealership lots.
This new car shortage has caused consumers to consider purchasing like-new, quality used cars instead. And that, dear friends, has caused the value of used cars to spike. It's all about supply and demand. In short, there has never been a better time to sell your used car and get top value for it either as a trade-in for a new car, or to get cash in your pocket. At Lithia Motors, we want your used car, truck or SUV and we'll give you great value for your vehicle.
Which price is right?
If you're looking to sell your used car instantly, you've come to the right place. Lithia Motors will buy your car outright or help you to trade it in on a new vehicle. But first, it's important to know what your car is worth. There are four types of prices when dealing with used cars: 
Wholesale 
Private 
Trade-in 
Retail
Here's how those prices work:
---
Wholesale price: The wholesale price is the vehicle's auction price. Some dealers purchase used vehicles at auctions and resell them. The price they pay is the wholesale value and it is generally the lowest of the prices you might see when looking at trade-in value.
Trade-in value: If you trade in your car, you could generally expect a value close to the wholesale value of the vehicle. Your car may be worth more if there is a high demand for your particular vehicle or it's in great condition.
Private sale price: This is the amount you could expect if you decide to sell your vehicle to another person in a private sale. It used to be that this number was generally higher than the trade-in value. That's not necessarily true today when used cars are in high demand at dealerships.
Retail value or price: The retail price is what you would expect to pay for a car at a dealership.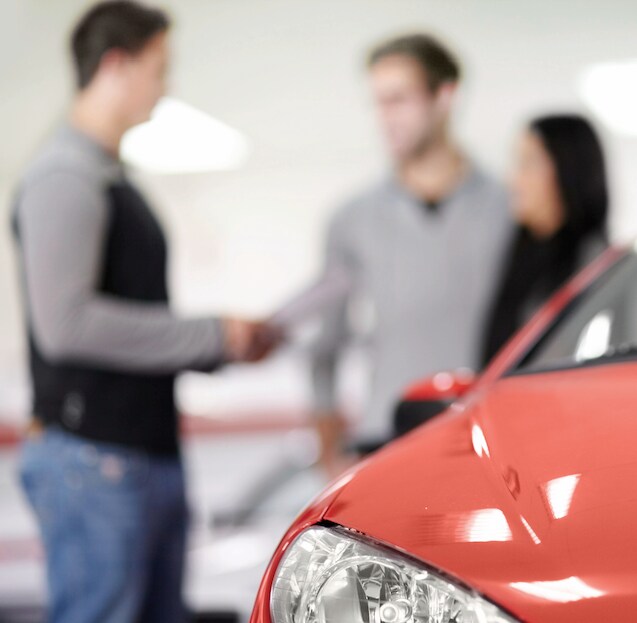 3 Steps to Help you Decide on your Car's Worth
Thanks to the miraculous oracle known as the Internet, it has never been easier to find out the market value of your vehicle. An online car market value calculator is a database that estimates the overall value of your car based on certain parameters. One of the best value calculators available, known as an industry standard pricing guide, is available through Kelley Blue Book (KBB) and we have provided it for you below under "Step 3." 

You'll need to enter your trade-in car's year, make, model, mileage and condition. When determining the value of your car, pricing guides give you an estimated price based on four condition levels: Fair, Good, Very Good, and Excellent. Over 50 percent of trade-in vehicles qualify as "Good Condition" whereas only three percent qualify as "Excellent." Value ratings are based on real world data including sales figures from auctions, dealership sales, private party sales, rental fleets, carmakers and lessors.
If you have paid off your car loan, you have the free and clear Title with no lien on the vehicle and can sell it any time you like. Don't worry if you're still making payments on your car, you can still sell it to Lithia Motors. Contact your lender and ask for the pay-off amount on your auto loan. Then compare what you owe to how much the car will be worth as a trade-in. If your car is worth more than what you owe, you're good to go. Lithia Motors would be happy to handle all this for you. 

If the car you are currently driving is a leased vehicle, you can still trade it in to buy a new car through Lithia Motors. We'll access the leased car's trade in value and pay off the lease company. If the car is worth more than the payoff to the leasing company, the positive equity counts toward your new car.
At Lithia Motors, we are always transparent on how we find the value of your car for trade in or sale. Remember that we'll buy your car whether you buy from us or not, so estimate your
car's trade in value
today without the need of Kelley Blue Book trade car value calculator, or by selecting one of our local 
Lithia Auto store locations here
.
---
Let Lithia Help
Once you have an estimated value of your car, bring it to your local
Lithia Auto dealer
for an appraisal. Trading in or selling your car through a Lithia Auto dealer is the safe and easy way to get you cash or get you behind the wheel of the car of your dreams, fast.