Dodge Challenger vs. Charger
Muscle Car Shootout: Dodge Challenger versus Charger

Muscle Car Shootout
Well, what have we here? Two fierce-looking muscle cars and a Sunday afternoon to shake them around by the neck. The Dodge Charger and Dodge Challenger were born in the gas-guzzling muscle car era of the 1960s and 1970s with lots of V8 bravado. When you look at these two cars you can almost smell the burning rubber and hear the throaty roar of drag races past. So before we bring you this shootout between the legendary Charger and Challenger, a bit of history.  
Dodge Challenger
Introduced in 1970, the Dodge Challenger was the ultimate two-door hot rod coupe made famous in the film Vanishing Point. The car went out of production in the 1980s but came back to roaring life in 2008 and has been in production ever since. There have been three generations of Challengers and Dodge has made many significant updates and improvements over the years. The biggest of which was a total redesign in 2015 when the Challenger rolled out with new aggressive styling, an upgraded interior, and yes, more power! 
Dodge Charger
In the other corner of this brawl, the Dodge Charger debuted in 1966 and there have been a whopping seven generations of the car that made the Dukes of Hazzard famous on TV back in 1969. It too was a two-door coupe until it was redesigned in its sixth generation as a four-door sedan in 2006. Dodge made massive changes to the car again in 2011 and the current seventh generation Charger roared to life with a big chip on its shoulder. Like the Challenger, the 2021 Charger sedan offers revised styling, new infotainment and driver assist features, an upgraded interior, and gobs of horsepower. 
Pros and Cons 
In their current incarnations, the Challenger and Charger have shared a platform for nearly two decades. There are, in fact, many similarities between these two speed demons. There are also some striking differences. Before we go further, here are the main things you need to know about how these two cars are different. 
The Challenger is a Mad Max-inspired two-door coupe with a small but usable back seat. It offers a comfortable ride and slightly better acceleration and handling than its brother, the Charger. 
The Charger is a four-door sedan. Though it doesn't look like a family hauler, it can accommodate five humans in relative comfort. There is definitely more interior room and cargo capacity than in the Challenger. Of these two cars, it also gives you a slightly smoother ride.
Mechanically, the Challenger and Charger are very similar and share the same underlying car platform and construction. In fact, the key difference here is that one is a two-door coupe and the other is a four-door sedan. Other than that, they give you an almost identical lineup of available powertrains. Even their updates have rolled out on the same years. So which is right for you? Let's find out. 

Comparing Powertrains 
The big year for improvements on both of these cars was 2015. That's when Dodge debuted the new eight-speed automatic transmission to replace the old five-speed. The Challenger and Charger got new looks and added trim levels. That year also marked the debut of the 707-horsepower Challenger Hellcat version. 
Both cars have a variety of available powertrains for 2021. They offer a base model 3.6-liter V6 that bridles 305 horses and 268 pound-feet of torque. There are two V8s on tap including the 5.7-liter, 370 horsepower version with 395 pound-feet of torque and the automatic transmission, or the mighty 6.4-liter, 485 horsepower with 475 pound-feet of torque version with a manual gearbox available on the Challenger. 
If more power and white-knuckle speed is what you crave, both cars come with Hellcat versions. 
We're talking about supercharged 6.2-liter V8s that produce 707 horsepower and a staggering 650 pound-feet of torque. We find that the 6.4-liter V8 is more than enough to get you to the bowling alley and back with plenty of throaty rumble and tire squealing. 
Gas Mileage
The V6 versions obviously provide the best EPA estimates. Though the four-door Charger is a bit heavier, both cars receive nearly identical gasoline economy ratings. The V6 gets an EPA estimate of 23 mpg in combined city/highway driving. All-wheel-drive variants drop to 21 mpg combined. 
The 5.7-liter V8 is paired exclusively with rear wheel drive and is rated at 19 mpg combined city/highway. With a six-speed manual, the numbers drop to just 18 mpg. The 6.4-liter V8 is predictably even worse, getting 18 mpg combined with the eight-speed automatic transmission and 17 mpg with the manual tranny. The formula here is simple: the more power to the pavement, the more you'll pay at the pump and those V8s require premium fuel. 
Comparing Interiors
Despite outward appearances, both of these Dodge hot rods are very similar on the inside. They offer a near identical range of trim levels. You'll notice the same basic controls, center consoles and dashboards. There is obviously more headroom and legroom for rear passengers in the four-door Charger. It also gives you a slightly larger trunk. Though a bit more cramped, the Challenger still has more interior room than a Chevy Camaro. If you are planning on taking long road trips, the Charger is the better and more practical choice. Not that these cars are about being practical. 
When it comes to trim levels, the V8 versions offer more power, stiffer suspension, better brakes and cooler wheels and tires as well as more luxurious interior materials and appointments. Where the V6 trim comes with cloth seats, the V8s bring you heated leather seats. 
Dodge's easy to use Uconnect infotainment system is available on both cars and includes Apple CarPlay and Android Auto. The optional 8.4-inch touchscreen is worth the extra money. The Challenger and Charger also both offer the additional option of driver assist technology including forward collision warning, automatic emergency braking, and lane departure warning. 
The Pit Stop 
In the end, we found that few cars today combine the feeling of muscle car nostalgia with modern comfort and technology as do the 2021 Dodge Challenger and Charger. While the Challenger's lighter body serves up a bit better performance and is slightly less expensive, the Charger offers four-doors and more room for the family. When walking around these cars, one will clearly speak to you more than the other. It is up to you to decide which one answers your call for the road. 
To find your dream car, or to test drive one of these bad boys, visit your local
Lithia Auto Dealer.
You can check out all the new and used autos on the market right here at
lithia.com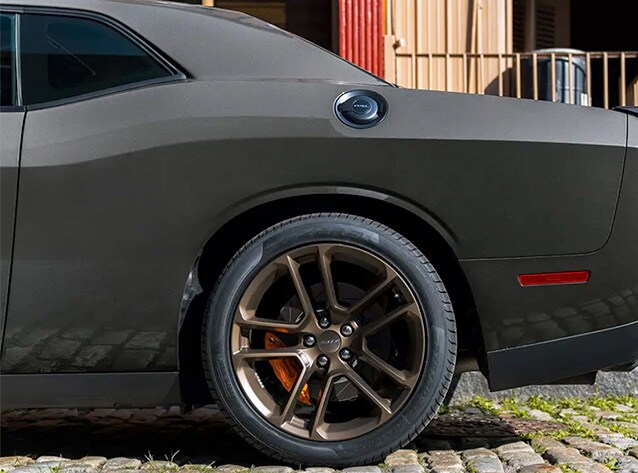 Challenger Pricing
---
Base MSRP $28,095 

SXT $29,490 

GT $32,490 

R/T $36,090 
Limited warranty 3 years/36,000 miles 
Powertrain warranty 5 years/60,000 miles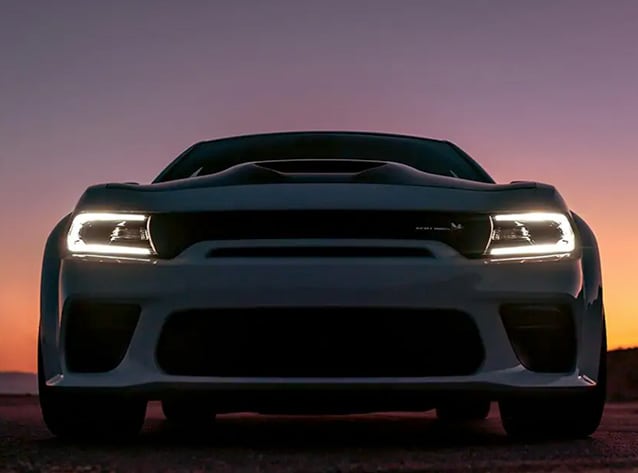 Charger Pricing
---
Base MSRP $29,995 
SXT $31,390 
GT $33,390 
R/T $37,890 
Limited warranty 3 years/36,000 miles 
Powertrain warranty 5 years/60,000 miles